Pingman Tools builds software and shares wisdom that makes network troubleshooting suck less. When you experience connection issues, our products help you identify culprits, monitor problems, and work toward solutions whether you are a seasoned pro or a networking newbie.
Network Troubleshooting & Diagnostics
PingPlotter is a network troubleshooting and diagnostic tool for Windows, macOS, and iOS. It uses a combination of traceroute, ping, and whois to collect data over time, and shows network performance graphically. The information helps find the source of problems faster and acts as evidence in case the problem is on someone else's network.
Remote Network Monitoring
PingPlotter Cloud efficiently collects network diagnostics from any internet-connected computer and sends it to a central interface, helping you evaluate remote connections from the comfort of your own desk. PingPlotter Cloud gives you the tools to understand a network as your users experience it by tracing the actual route their data takes, be it for SaaS apps, remote desktops, VPNs, or VoIP.
Multi-Target Network Monitoring
MultiPing is a network monitoring tool for Windows. It's built for monitoring hundreds of TCP/IP hosts and providing detailed historical information about the collection period. The tool allows you to pick between multiple possible hosts (for online gaming or stock trading) to monitor uptime and performance or just keep track of general connectivity.
Download Free Trial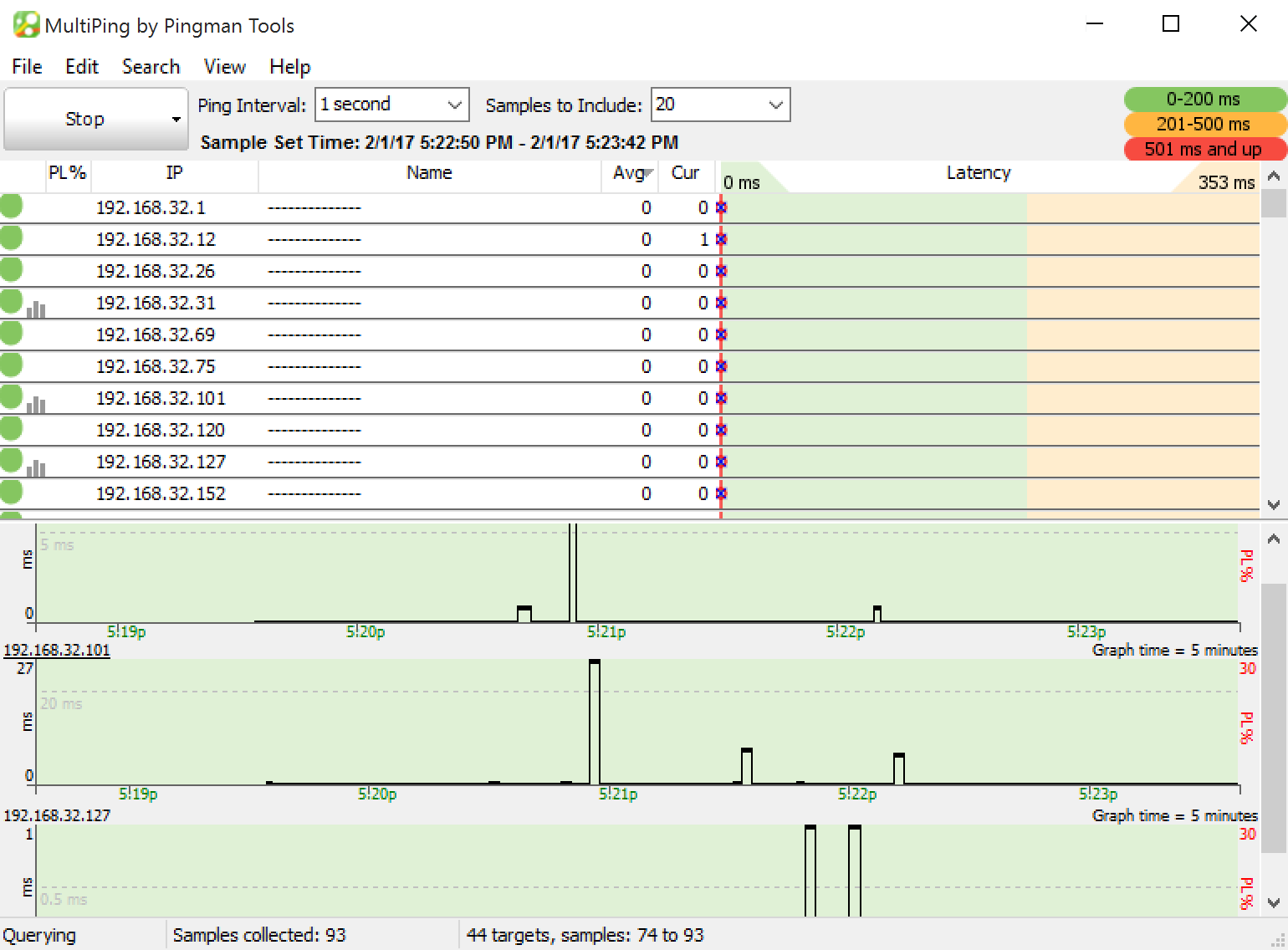 Need help?
Talk network troubleshooting with other users (and us!)
Forums
Email us for help or help yourself to documentation
Support
Learn the art of network troubleshooting
When it comes to solving network problems, tools are only part of the equation. They are useless if you don't know how to use them. That's why we're committed to providing as many resources as we can to help you become an effective network troubleshooter.
Problems with something specific?
If you're having problems with something like Skype, League of Legends, or Comcast, check our our directory for a list of service specific network troubleshooting resources like phone numbers, support forms, troubleshooting guides and more.
Product reviews
We're always interested in other people sharing our tools. Please, email marketing@pingman.com to get in touch about reviews.
Manage your Software
Your account is the best place for finding license keys, downloading software, adding licenses, and upgrading. Currently, PingPlotter is the only product in the account system, but NoPileups is coming soon.
Visit account